Nourish - Food Prepping – How to Start and Why
Although the idea of prepping all your food for the week in a couple of hours may sound daunting, it's really a lot easier and less time consuming than you'd think.
It's a great technique to help encourage a more healthy and varied diet, and it's also a wonderful way to learn the ebbs and flows of the seasons and preservation techniques.
Within this blog post I'm going to be giving you some tips and tricks to help save you time and money during the week and to help you avoid experiencing the hangry (hungry + angry!) moments in life when you just want something to eat.. now!
What is food prepping?
Food prepping is simply the method of purchasing fruits/veggies/grains/beans/nuts/seeds etc. and cleaning/cutting/chopping/cooking/baking them in advance to eat during the upcoming days/weeks.
This is a great way to help save time during the week, plus it means you're more likely to stick to a healthy diet as it's all prepared in advance.
This blog is not focusing too much on the final dishes but more so the prepping of a mix of cooked and raw veggies, cooked grains and legumes, making homemade sauces and dips, broths and snacks.
The main idea behind this food prep is that it makes it a lot easier to cook and eat real food during the week if you prepare and cook some of the ingredients in advance the weekend before.
This makes it easy to simply combine a mixture of these at any meal and bam, you've got a healthy balanced meal.

The varieties are endlessly, since with each season the choice of fruits and veggies are changing, as can your choice of grains, legumes and sauces.
How to Start
Chose a day, for example Sunday, and take a couple of hours to prep everything for the rest of the week.
By doing it all on the one day, this means there's less food making during the week which also means less washing up and less time spent cleaning, chopping and waiting for grains and beans to cook.
What You'll Need
Pyrex glass containers with lids
Weck/Ball Jars
Before you begin, you may want to invest in a few clear glass lidded containers and jars as these will not only give you a good idea of what you've got in the fridge visually, but they also store your food in the freshest possible way.
This also means that they can be stacked easily so they won't take up too much space in your fridge and freezer.
Masking Tape (for labelling) or labels
It may also be a good idea to label your containers and jars so that you know how long they've been in the fridge/freezer.
This can save you the troubles of wondering how long that rice has been there, or humming and ha-ing about which week you cooked those potatoes.
Reusable silicone storage bags

Reducing your use of single use plastic is easy to do when you can swap them out for reusable storage bags. These are great for storing frozen bananas (for smoothies), frozen veggies and fruits, and as general snack bags for nuts and seeds, energy balls etc.
Beeswax / vegan wax food wrap
Instead of covering your food with aluminium foil or plastic wrap, try wax food wraps. They're great for keeping food fresh and are reusable.
Cotton tea towels
Fantastic for keeping greens and herbs fresh
Method
The key here is to focus on things that can stay fresh in the fridge during the week and that can be used in a various meals.
VEGETABLES
Onions
I find this a great trick to help me out if I'm in a rush but really want a nice nourishing hot meal in moments.
Simply add a few peeled and roughly quartered onions to a food processor and blitz until small. Then cook them as you normally would with a little oil or sauté in water until clear.
Once they've cooled down, add them to a clear glass container and put in the fridge. Now you can easily throw together a soup, stew or curry in half the time.
Garlic
It can be a great time saver to peel a whole bunch of garlic in advance and put them in a small glass lidded container in the fridge. This way you don't need to faff around peeling your garlic each time you add it to a meal or want to jazz up a dip or dressing.
ROASTED VEG
Roots
I love buying sweet potatoes, pumpkins, potatoes, beetroot, carrots and parsnips and roasting them at the beginning of the week.
You can add them already roasted to soups and stews, salads or bowls, and that also means you don't have to wait around for half an hour or longer once you've realised you're already hungry and don't want/can't wait so long to eat.

A base of rocket, some quinoa, roasted veggies, a spoonful of hummus and a sprinkling of toasted seeds and you've got a meal, just like that!
Simply cut into bite-size pieces or wedges, drizzle with oil and bake at 200°C for roughly 25 minutes.
Broccoli, Brussels Sprouts and Cauliflower
The same goes here for cruciferous veggies. Simply break into the broccoli and cauliflower into florets and cut brussels sprouts in half, drizzle with oil and bake at 200°C for about 20 minutes or until golden.
Courgette, Red pepper and Aubergine
Slice the courgette and aubergine into thin rounds, and deseed and chop the red pepper into sticks, brush with oil, place on a baking tray and roast at 200°C for 10-15 minutes or until they begin to char around the edges.
As usual, allow to cool and place in a container before adding to the fridge.
A handy tip I read once is to drizzle some extra oil and add 1 garlic clove to the mix and leave to marinate in the fridge. Yum!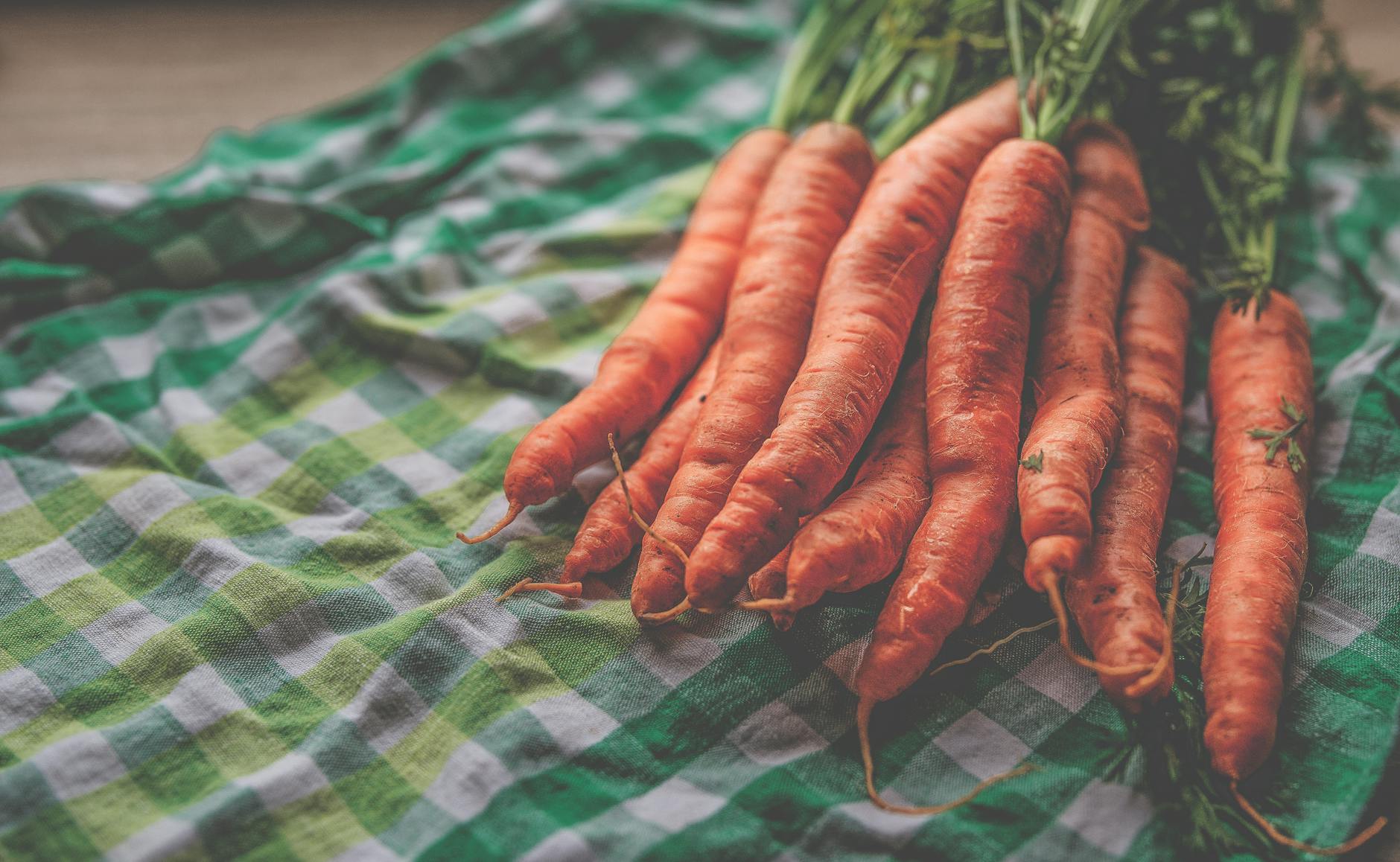 RAW VEG
Vegetable Sticks in Water
Wash your veggies, such as carrots, celery, cucumber or red pepper and cut them into sticks before adding them to a jar or container filled with water and pop in the fridge.
Not only does it keep the veggies from drying out, but it makes them really easy to snack on as they're already prepped. Dip them in hummus and you've got a healthy snack right there!

This also makes juice prep easier, and you can also throw them into a stew, soup or stir fry with ease too.
Prepped Raw Veggies: Broccoli, Courgette, Green Beans
Once you bring home broccoli it can end up just sitting there going soft slowly over the week, but if you get it home, wash it and chop it up, you'd be surprised how much faster you end up using it.
When it's already prepped, you can easily find yourself adding it to a stir fry or soup last minute, or throwing it in the steamer once you've noticed a lack of green in your meal.
Prepped green beans, courgette and broccoli can all be stored together or separately in a glass container as they all fit well with a multiple of meals and combine really well together.
Greens
Leafy greens such as kale, chard, pak choi, spinach and lettuce etc. can be rinsed, have their thick stems chopped off and then wrapped in a towel in the fridge. This method keeps them fresh for about one week.
Step 1: Rinse your greens and shake off the extra water (or add to a salad spinner)
Step 2: Lay out a cotton kitchen towel and lay out the leaves on to the towel.
Step 3: Roll the leaves up in the towel, applying some pressure to minimize air and wrap tightly.
Step 4: Store in the fridge preferably in the crisper draw but can also be stored on a shelf.
This makes the greens really easy to grab to add to a salad, stew, veggie bowl, to your steamer or even for juicing.
GRAINS AND PSEUDO GRAINS
Soaking and cooking your grains all at once is such a time saver and makes it really easy to put together a meal at any point. These can all be cooked ahead and used in stir-fries, salads, soup toppings, patties or even desserts.
If you know you're going to prep on Sunday for example, soak your grains over Saturday night and then they're good to go for Sunday.
Cook and then let them cool down and store in sealed glass containers in the fridge. Don't forget to label them so you know how long they've been in there.
There's an amazing selection of grains and pseudo grains out there to chose from, including rice (black, red, jasmine, short grain, long grain, basmati etc.), millet, quinoa, amaranth, buckwheat, bulgur, cous cous and so on.  
PULSES
Chickpeas, black beans, kidney beans, lentils and other pulses are great in stews, curries, salads, soups, spreads, burgers and patties, falafels, for hummus. The list goes on!
The only problem is how long they take to cook!
That's where food prep comes in. If you soak and pre-cook dried pulses and legumes in advance, they're right at hand when you need them.
You can easily keep the amount you want for the week in glass containers in the fridge, or you can freeze half so that all you need to do is take them out before you need them. For example, you want a curry that evening, take out your chickpeas before you go to work and when you're home it'll be as easy as opening a can!
You may be interested to read more about why you should soak your grains and pulses here:
DIPS AND SPREADS
Hummus – A fantastic dip to always have a jar of in the fridge. Make it from scratch or buy the best version you can find.
Red pepper spread – I absolutely love to use red peppers in a spread, and this once by Green Kitchen Stories is my favourite. It's amazing added to sandwiches, mixed through quinoa, or used to dip veggie sticks or crackers in.
Pesto – Pesto is fantastic for adding more flavour to a multitude of dishes, from salad, soup, patties, burgers, pasta and so forth. Always have a jar in the fridge for ease of grabbing.
Sauerkraut – If you've read my blogs long enough you'll know I am a devoted lover of fermented foods, especially sauerkraut.
It's fantastic for your gut health, plus it tastes amazing. It can really pep up a salad or sandwich, plus it's a great way to add more veggies to your plate.
Often I just mix some rocket, rice, roasted sweet potato and sauerkraut together and I love it!
You can get different flavoured krauts, which can completely alter your plate. Sauerkraut with caraway mixed with roasted beets and buckwheat, or Mexican burritos with pineapple infused kraut. There are endless possibilities.
If you're interested to try making sauerkraut, check out my previous blog here. Otherwise if you're not up to that challenge quite yet, we stock plenty in our Nourish fridges.
BROTH
Making your own broth is such a great way to use up older veggies, plus it reduces waste and results in a really flavoursome broth for upcoming soups, stews and curry bases.
Here's a little guideline from The Happy Pear on how to go about making veggie broth.
Of course you can also make your own bone broth too, or buy pre-made if you're in a pinch.
HOMEMADE NUT/SEED MILK
Another great healthy and delicious thing to prep is nut milk.
It tastes amazing, the texture is delightful, and you can adjust it to your taste and alternate as you wish.
There are many options to chose from. Think cashews, almonds, walnuts, hazelnuts, pecans, macadamia nuts, brazil nuts, sunflower, pumpkin, sesame and hemp seeds, all of which make delicious milks and are a great way to add in extra nutrients, plus they're really versatile.

You can use these as base to your breakfast overnight oats or chia puddings, or you can use them in dressings or as cream alternatives. Cashews make a lovely 'cream' if you add it to a 'cream' of tomato soup. Mmm!
HOMEMADE NUT/SEED BUTTER
This is optional, but if you have a food processor, I'd encourage you to give it a go.
Making large batches of homemade nut/seed butters such as almond butter, hazelnut, sunflower butter can make many meals go a long way. Plus if you mix the nuts with 50% sunflower seeds it's also a lot cheaper.

A spoonful here and there can jazz up many dishes. You can add it to porridge, granola, chia puddings, toast, or mixed with other ingredients to make a sauce or dressing. It can also be used as a base to Asian dishes and stir fries.
Of course, you can also buy them already made and keep them at hand for your cooking and baking 😊
ENERGY BALLS/BARS
These are so great for kids, as post work out treats, or for when you need a sweet snack.
Having these in the fridge can stop you from reaching for naughty things when your blood sugar levels drop and they are so versatile. You can make them using left over pulp from your nut/seed milk, you can add powders such as chaga, reishi, maca, ashwagandha or lucuma to give a major nutritional boost in a delicious way, and they can be mixed with whichever nuts/seeds/dried fruits and flavours you wish.
Check out our previous blogs here and here for some ideas.
GRANOLA
I love making a big batch of granola so that I have it for 2-3 weeks to top off my smoothies or mix with coconut yoghurt for brekki.
Of course you can buy granola but it's so easy to make and you can change up the flavours and ingredients to your liking and to help encourage a good rotation of nuts and seeds in your diet.
Here's a recipe for some inspiration, but there are many out there to try.
This also helps to keep your cupboards constantly on rotation and allows you to clean out any of the last bits and pieces of seeds, grains, nuts and dried fruit.
Of course, you don't need to prep all of these in the same week. They're simply ideas. And if you are new to this, try taking just one hour this weekend and prepare one tray of roasted veggies, one container of cooked grains, one dip or spread and some raw veggies diced and stored in the fridge.
When you learn what works for you in your kitchen and with your schedule, you'll find it's quite easy. Just do one step at a time 😊
And of course, you're also allowed to take shortcuts and buy a decent pesto, hummus, nut butter, granola or whatever else it may be that you require for your weekday meals. You don't have to prep everything yourself. It's simply a nice way to know what's in your food and be in control of what you're putting in your body, knowing that it's health and good for you.
I hope this helps anyone who was curious about where and how to start food prepping, and gives you some inspiration to give it a go.
It's just a matter of going one step at the time.
Guten Appetite!
Emily
Any questions? Drop into your local Nourish store to chat with our expert team and explore our full range of foods, supplements and skincare. You can also find our full product range in our online store.
Follow (and chat with us) on Facebook and Instagram or subscribe to our weekly Nourish newsletter.
*Please note that while we are knowledgeable about our products and nutrition, this blog should never be a substitute for medical advice and attention.
Please remember that you should always obtain the all-clear from your doctor before starting any new supplement plan or diet if you're on any medication.